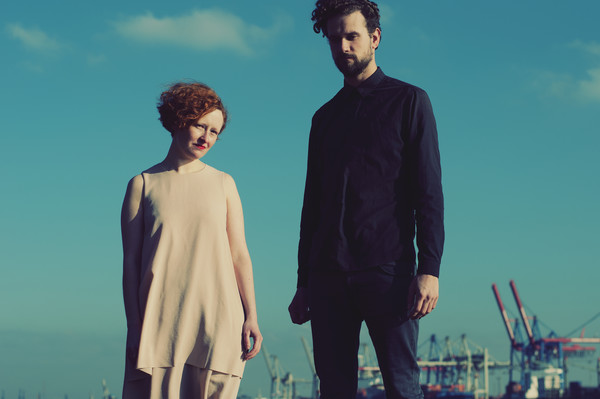 Other
Ancillary Programming
Free Admission
Suitable for international audience
Magnets
(Phinsterbush)
Release concert for the debut album of the band Phinsterbush
That language is so old
And by no means it is complete
It's my presence and your reversions and stories I didn't read
I move around that place a lot
I move slowly
I am a mover
I know we are closer than necessary
It's better to sadden me
When Nadine Finsterbusch sings and Bruno Bauch plays guitar, we are far from the usual German pop boredom. And this is not only because their songs feature English lyrics.
Phinsterbush plays dream pop. It's like this pop music really is not satisfied with what it is and dreams of a bigger world behind, beyond and underneath it - sometimes minimalistic, sometimes monumental, in thousands of layers, sometimes sober, sometimes kitschy, sometimes shimmering, other times with strong beats whose rhythms mutually interrupt each other. And what could possibly be more pop than dreams like these?
On the second-to-last night of the festival, the band celebrates the release of their debut album Magnets with this concert.
Price: Eintritt frei
Dates:
Sat.
17.6.
23:00
ca. Min.
Venue:
Alte Münze: Festivalzentrum, Molkenmarkt 2, Mitte,
10179 Berlin
Credits:
For all participants and guests of the Berlin Performing Arts Festival.
Part of the ancillary program conceived and developed by the Performing Arts Festival team.
Participants:
Phinsterbush (formerly: Nadine and the Prussians) are Nadine Finsterbusch and Bruno Bauch. Their first album, Magnets, was produced by Ramin Bijan (die Türen, der Mann, the Burning Hell, Chuckamuck).
Venue Info:
Alte Münze in Mitte has been the home of Berlin's mint since the 1930s. Here, Reichmarks were printed by the National Socialists, then East German marks, followed by Deutschmarks and euros after German Reunification and the introduction of the euro until the mint was moved to Reinickendorf in 2005.
The premises are currently managed by Spreewerkstätten. Since 2013, they have successively developed various areas in Alte Münze and made them usable. Culture makers, music producers, artists working in all genres as well as art and music festival presenters and social startups realize a wide variety of projects in Alte Münze today in the culture and creative economy sectors and program the event areas.
The future of Alte Münze is currently the topic of active debate by Berlin's cultural policy makers. In light of this, PAF is even more excited to be able to be a guest here. It allows this much-discussed location in the middle of the city to be temporarily experienced together by audience members and artists.