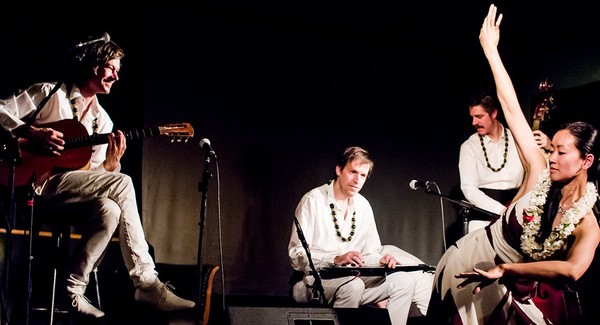 #Parties & more
#Specialist Audience
#Free Admission
Open Up, PAF!
(Performing Arts Festival Team & Guests)
To open the festival, there will be remarks by Dr. Klaus Lederer, Senator of Culture and Europe, Janina Benduski for the Berlin Performing Arts Festival as well as Sandra Klöss, a board member of LAFT Berlin. We promise to be brief.
DJ Joe Carrera will accompany the evening with swinging 1960s dance music: a mixture of pepper twist, sitar sounds, moggie boogie & easy jerks. In a one-of-a-kind live performance, HULA HUT & The Seven Seas will bring feelings of summer with their Hawaiian music from the 1920s and 1930s.
Price: Eintritt frei
Announcements:
Aufgrund der begrenzten Teilnehmerzahl ist eine Reservierung erforderlich: fachpublikum@performingarts-festival.de
Dates:
Tue.
5.6.
20:00
ca. 239 Min.
Venue:
SO36, Oranienstraße 190, Kreuzberg,
10999 Berlin
Der Haupteingang hat drei Stufen. Rollifahrer*innen können über den Seiteneingang eingelassen werden.
Wheelchair accessible (Information provided by the organisers.)
Credits:
DJ: Joe Carrera
Live: Hula Hut & The Seven Seas
Participants:
» Performing Arts Festival Team & Guests

The Performing Arts Festival team consists of young and experienced artists, festival designers, organizers, editors, publicists and more… – many members of the team are also active as members of Berlin's independent performing arts community. Together, we shape this festival from work created within Berlin's independent performing arts community and offer the festival for Berlin's independent performing arts community.
You can meet us personally during the festival – we look forward to it!
https://performingarts-festival.de/2017/about/team/
Venue Info:
The venue of SO 36 at Heinrichplatz does not coincidentally bear the name of the old postal code for Kreuzberg; in this space rich in tradition, a vibrant present meets a compelling past. The hall offers space for newcomers, sounds beyond those of the charts and the mainstream, as well as events and shows by all kinds of projects. The SO 36 team is just as diverse as its events. People from various groups and with different backgrounds have started the attempt to build bridges. As an influential cultural institution, SO 36 is also relevant beyond the borders of Kreuzberg, and it is impossible to imagine Berlin night life without the venue on Oranienstraße as innovator and crowd magnet.