PAF&friends — Schedule of Programming for Industry Professionals
The schedule of programming for industry professionals will take place at the festival center in Ballhaus Ost (Pappelallee 15, 10437 Berlin). Admission is free of charge. Due to the limited number of participants, we ask you to please take a moment to register for the event by sending an email to: fachpublikum@performingarts-festival.de (Deadline is February 19, 2019).
Making Festivals: Holding Everything Together – Workshop
Why do we put on festivals? In what constellations of participants? In which contexts? And what challenges are we faced with? PAF&friends invites festival creators and artists to work together on the topic of festivals. And this means nothing other than entering into an exchange about what it is you are doing, experiences that go differently than planned, speak together about putting on festivals and, over the course of mutual sharing, keep our eyes on what always remains the thing we have to do: change what it visible at the moment.
The participants are invited to bring their own ideas and concepts that should or could be programming concentrations or festivals.
Workshop directed and moderated by: Fanti Baum & Olivia Ebert (artistic directors of the 2018 FAVORITEN festival)
Date: Wed, Feb 20, 3:00 pm – 6:00 pm
Location: Festival Center (2nd floor)
Talking Cities: Regions, States and Communes and the Contemporary Performing Arts — Discussion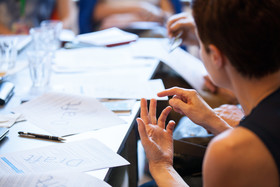 Culture is a state matter and the administration varies in each of Germany's 16 federal states. This is why the cultural administrators from the cities of Munich, Hamburg, Cologne, Dortmund, Stuttgart and Berlin are invited to PAF&friends to enter into an exchange on similarities, differences and best practice in administration.
For invited guests only.
By: Performing Arts Festival Team & Guests
Date: Thu, Feb 21, 2:00 pm – 4:00 pm
Location: Festival Center (4th floor)
2019 Berlin Performing Arts Festival — Networking and Information Event for all participants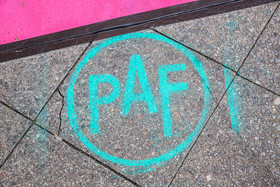 All representatives of the performance venues as well as the artists participating in the 2019 Berlin Performing Arts Festival are invited to get to know each other, speak with the festival team and ask a final round of practical questions about the coming edition of the festival.

Participants: Performing Arts Festival Team & Guests
Date: Thu, Feb 21, 3:30 pm – 5:00 pm
Location: Festival Center (2nd floor)
Independent Festivals in Germany — Discussion
Five festivals present artists and groups of the independent performing arts community with productions from the field of the performing arts on an annual or biennial basis in five regions of Germany. With PAF&friends, local productions will be presented in a shared format each year in one of the five festival cities (Berlin, Dortmund, Hamburg, Munich, Stuttgart). Alongside PAF&friends, the Association of Regional Independent Performing Arts Festivals also promotes dialog between local art communities with its Städtelabor program during the festival itself. In this program, two artists from each city/region have the opportunity to meet, get to know each other and network, thus become acquainted with the aesthetics and working methods of another city.
Participants: Sarah Israel (PAF Berlin), Martina Grohmann (6 Tage Frei), Julian Kamphausen (Hauptsache Frei), Harald Redmer (Favoriten)
Moderation: Anne Schneider (German Federal Association of the Independent Performing Arts)
Date: Thu, Feb 21, 5:00 pm – 6:30 pm
Location: Festival Center (2nd floor)
Connecting the Dots — Post-Performance Discussion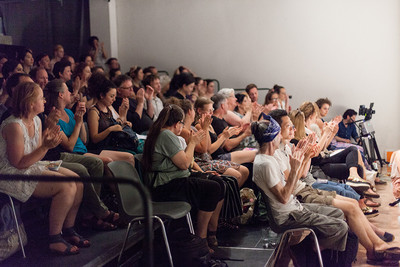 In the series Connecting the Dots, festival directors from various regions in Germany share the impressions of the evening and speak about it with the audience and the artists.
Participants: Fanti Baum (artistic director FAVORITEN 2018) & Tina Pfurr (artistic director Ballhaus Ost) on thusday and Susanne Schuster (director Hauptsache Frei) & Martina Grohmann (artistic director 6 Tage Frei) on friday.
Date: Thu, Feb 21, 10:30 pm – 11:15 pm
Fri, Feb 22, 9:00 pm – 9:45 am
Location: Festival Center (2nd floor)
Performing Arts Networks in Germany — Discussion
Despite motivation and diverse connections, there is often no option within Germany to leave one's own city, one's own place of creativity and residence, as funding options between federal German states are rare. Over the course of a moderated discussion, the initiator of the Germany-wide network flausen – young artists in residence, Winfried Wrede, and Franziska Werner, artistic director of Berlin's Sophiensæle and initiator of the Freischwimmen festival, talk about the options their networks offer as well as the problems they encounter. In order to also receive insight into the actual day-to-day experiences of networking throughout Germany, the panel will also feature the choreographer Olivia Hyunsin Kim and the dramaturg and production manager Anne Brammen.
With this input in tow, table conversations with participants and panel guests will then take place into to mutually consider the various motivations, strategies and gaps with regarding to the networking of the performing arts throughout Germany.
Participants: Franziska Werner (Freischwimmen Festival); Winfried Wrede (flausen – young artists in residence); Olivia Hyunsin Kim (independent choreographer); Anne Brammen (independent dramaturg and production manager); Moderated by Wilma Renfordt (Impulse Theater Festival)
Moderation: Wilma Renfordt (Impulse Theater Festival)
Date: Fri, Feb 22, 5:30 pm – 7:00 pm
Location: Festival Center (2nd floor)
Introducing "Introducing..." — Network Meeting
The artists who participated in the newcomer's platform of the first three editions of the Berlin Performing Arts Festival are invited to meet the artists of PAF&friends and interested industry professionals over a glass of elderberry juice with mineral water to exchange and create synergies in order to further develop their networks in a national context.

Participants: Performing Arts Festival Team & Guests
Date: Fri, Feb 22, 3:30 pm – 5:00 pm
Location: Festival Center (2nd floor)